First stop – Dubai
Here we are, we left home for one year on the 19th of January, having as first destination Dubai.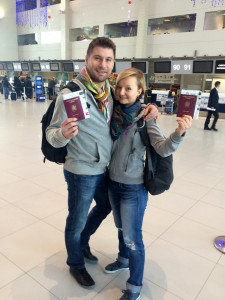 I will not write too much about Dubai.  All in all, it was more than expected. It has a nice mix of big skyscrapers with great architecture and traditional white Arabic houses. But with too much accent on luxury, money, appearance – lots of 5 stars hotels in which you cannot even access the lobby or restaurant without reservation, luxury cars, thousands of square meters of shopping malls!
Imagine you can make scuba diving in a huge aquarium! We've seen this in Atlantis, after lying that we had a reservation in one of the restaurants inside. Yes, not something to be proud of, but still innocent I would say. They also had a gold ATM!!!
However, definitely cool for one weekend. One thing should not be missed: the fountains in front of Burj Khalifa – exceptional musical show each evening.